Landholders: Phillipson family
Properties: 4 properties in the Macalister River region of Gippsland
Size: Approx. 1,000 acres over 4 linked properties
Traditional Owners: Gunaikurnai
Covenants with Trust for Nature
EcoGipps consists of four diverse properties stepping from the Gippsland Plains to the Avon Wilderness. Reclaimed from former staging posts when cattle were driven through the wilderness to the alpine peaks for grazing, the properties encompass riparian woodland and lowland grasslands bound by the meanders of the Macalister River.
The properties create a stepping stone between the townships of Heyfield and the Alpine Nature Park, connecting public and private nature bushland. They follow a series of creeks and river systems likely used as migration routes for millennia and latterly as mountain cattlemen trails.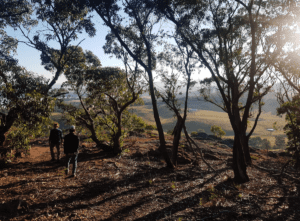 The properties are owned and operated by the Phillipson family, well-known for their environmental philanthropy and support for grassroots environmental organisations via the Rendere Environmental Trust.
The EcoGipps properties represent the family's commitment to restoring and conserving Gippsland landscapes and to sharing knowledge with other covenantors, researchers, the Gunaikurnai Traditional Owners and the local community.
The family is not only concerned with protecting the flora and fauna of the area, but with promoting conservation as a contributor to the regional economy.
Conservation actions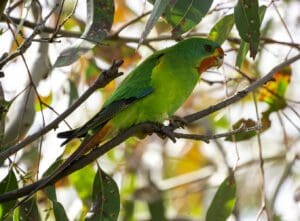 The family has a large program of work underway to maximise habitat integrity to create thriving populations of local and significant species including Dingos, Swift Parrots, microbats and Gippsland Water Dragons.
The aim is to facilitate future opportunities to rewild the area with species previously lost, including the Eastern Quoll and Brush-tailed Rock-wallaby.
The family consults with and engages scientists to conduct ecological research, including baseline studies to identify species and habitats of significance and establish long-term monitoring. A number of other projects and activities, including seasonal tree plantings, are underway on the properties, with the family aiming to secure carbon-neutral certification by 2025.
Property details
Our four properties all have a distinct character, defined by their habitats and topography and shaped by past human exploits. Current management is focused on weeds/feral animal reduction and riparian plantings.
Property 1 (90 acres)
This formerly degraded cattle grazing country, which is bordered by an active irrigation channel and the Macalister River, holds rare remnant swathes of native plains grassland, including Wallaby and Kangaroo Grass.
The river and channel are bordered by riparian woodland and several locally and regionally scarce plants.
The property forms an important interface between habitats and a vital connection to other surrounding properties.
Property 2 (300 acres)
Largely intact, with dry Box and Stringybark bushland and many old tree nesting hollows, this property includes a rare sub-humid forest and Tea-Tree soak; part of remnant swampy lowland habitat.
Scarce plants such as Bushy Hedgehog Grass and Heath Platysace allude to the richness of these habitats.
Property 3 (350 acres)
This property encompasses locally-significant open grassy woodland dominated by Yellow Box grassland on Glenmaggie basalt, a localised habitat in Victoria.
Some grassland areas remain open due to the basalt, including a large alluvial terrace in a meander of Navigation Creek. This creek runs west-east through the property, joining the River Avon to the east and is flanked by mature riparian forest vegetation along its length, with many of the trees supporting excellent hollows.
At the western reaches of the creek, the valley steepens and microclimatic changes result in the area being considerably more humid.
Property 4 (300 acres)
The property consists of open woodland and glades and extensive bush and dry ridgelines. Ben Cruachan Creek forms part of the eastern boundary before joining the Avon River. The surrounding high escarpments are dominated by drier bush.
Several colluvial groundwater-fed springs environments are of particular interest, with further baseline research underway to help the team understand their biodiversity values.
Recent progress
Native grasses, ferns and shrubs are rebounding strongly, attracting small mammals, reptiles and ground birds.
Comment from Land Covenantors Victoria secretary, Diana Droog
"The Phillipson family are highly experienced covenantors who work with Trust for Nature and other groups to ensure the EcoGipps properties are protected in perpetuity. Jim Phillipson has been instrumental in getting Land Covenantors Victoria off the ground and together we are working to ensure that more individuals and families get the opportunity to conserve and restore private land for future generations." 
Photo credits: Landscape photos with thanks to Dan Brown via Flickr. Diuris sulphurea with thanks to NSW Grassy Ecosystems. Calochilus robertsonii with thanks to eyeweed via Flickr. Swift Parrot by David Cook via Flickr.e