Landholders: Gavin Wigginton and Andrew Kleinig
Property: Nature Reserve in Strzelecki Hills, Callignee
Size: 236 acres
Covenanted: 2008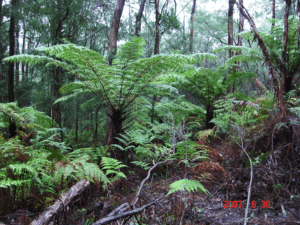 We acquired the 236 acres property in 2007 and placed a Trust for Nature covenant on the title deed in 2008. We regard it as a nature reserve that we hold in trust for future generations.
The property in the Strzelecki Hills in Gippsland is a blend of lowland woodland, damp and wet forest with several gullies and seasonal streams that run through to Traralgon Creek. There is an abundance of flora and fauna, including a koala colony, lace monitors, bandicoots, 60 bird species and some rare orchids.
The property was severely impacted by fire in 2009, from which it has recovered. We survived in a car in the shed as the house burned down. In 2012, a more fire-resistant house was erected in the domestic area. The property is off-grid with a solar energy system.
Activities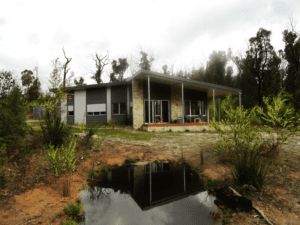 Since acquiring the property, we have established 5 km of walking tracks, renewed fencing and actively manage the removal of weeds. Flora and fauna surveys are completed intermittently and we have undertaken a camera trapping program.
Acquisition of the covenant has given us peace of mind that the property will remain free from the threat of development. We welcome the establishment of Land Covenantors Victoria as a means of sharing knowledge and experience, promoting the adoption of a covenant by other landowners and potentially facilitating landscape ecology.
Gavin is currently an author specialising in biography and history. Previously, he was a senior manager in both the public and private sectors and a management consultant. He has been a member of the Wilderness Society for over 30 years and, for ten years, he was a Board Member of the Australian Conservation Foundation of which he is an Honorary Life Member. Andrew is a long-time environmentalist and a manager with Melbourne Water.