Landholders: Catherine & Clive Carlyle
Property: Morwell, Northern Grampians
Size: 145 hectares
Traditional Owners: Dja Deja Wurrang/Djab Wurrang/Jardwadjali
Covenanted in 2020 with Trust for Nature
Catherine and Clive have always had a deep interest in, and passion for, exploring and protecting the natural world.
Catherine was co-founder of Community Action for Sustainability, a group that operated successfully in south-east South Australia (SA). She was also instrumental in establishing the Limestone Coast Protection Alliance, which resulted in a moratorium on unconventional gas development in south-east SA.
In her spare time, Catherine is a rural GP.
Clive has a background in research leadership, culminating as Assistant Chief of CSIRO Forestry and then Sustainable Ecosystems. His discipline expertise is in forest ecology and biogeochemical cycling. Among his many contributions, Clive initiated coordination of CSIRO-wide activity on mitigation of Agricultural Greenhouse Gas Emissions.
Both Catherine and Clive are members of Landcare; Clive is Chair of the Project Platypus Landcare Network and Catherine is Treasure of the Australian Plant Society Grampians Group.
Property purchase
Catherine and Clive always had "a vague notion" about buying a bush property; it became a reality in 2013 when they checked out some "for sales" on a rock-climbing trip to the Grampians.
They purchased the 145-hectare property in 2013 and moved there permanently in 2016. All but 5ha are under a Trust for Nature covenant.
Location and features
The property abuts the Grampians National Park and connects to other areas of significant native vegetation. It has a High Landscape connectivity score.
For a relatively small property, there is a very wide habitat range, including seasonal herbaceous wetland, seasonal riparian wetland, red gum plains grassy woodland, damp sand herb-rich woodland, red gum swamp and plains grassy wetland. This gives rise to extensive habit boundaries with dramatic vegetation changes over distances of a few metres.
Significant trees
There are 65 very large river red gums with circumferences ~4m – 9.5m. In addition, one individual has a circumference of 14m.
This tree is currently listed as the joint largest river red gum in Australia and is on the Victorian National Trust register of significant trees.
Management
The property is being actively managed for biodiversity values. This includes ongoing feral animal control, weed control, enrichment plantings (mainly understory species; 4,000 plants will be put in in July 2022), wetland restoration and wildlife monitoring.
Pest control
Fox control is continuous with 1,080 (canid pest ejectors), cat control is via cage traps deployed when cats are sighted on camera.
Rabbit control was undertaken with RHDV1 K5 in 2018; since then sightings have been rare.
Wetland reconstruction
In conjunction with Nature Glenelg Trust, a weir was constructed in 2018 to restore natural drainage patterns on a seasonal creek resulting in the annual flooding of some 50ha of wetland, some beyond the property boundary into the National Park. This supports a very diverse wetland flora including ~10 EPBC listed plant species, six species of frog, the endangered Western Swamp Cray, and Southern pygmy perch.
The seasonal creek and wetland are zoned as Culturally Significant and there are two culturally modified trees on the property.
Native birds
To date 106 native bird species have been recorded, including Diamond Firetail, Hooded Robin, Barking Owl, Powerful Owl, and Brown Tree Creeper.
A pair of Powerful Owls have roosted continuously on the property since September 2021. This is a good indication that the property and adjoining areas have (or at least had!!) a high density of prey species, predominantly arboreal mammals. Southern Brown Bandicoots have been recorded at 17 locations over ~70ha of dense bracken habitat.
Native animals
Other animals regularly recorded are Sugar Glider, Feathertail glider, Eastern Pygmy Possum, Brush-tailed possum, Ring Tailed Possum, Yellow Footed Antechinus, Rakali (white-tailed water rat), Red-necked Wallaby, Black Wallaby, Eastern and Western Grey Kangaroo, and short-beaked echidna.
Koalas move through but do not appear to reside on the property. Fat-Tailed Dunnarts and Heath Mice have been recorded within 5 km and Squirrel Gliders 10km of the property.
Common reptiles include Stump-tailed skink, eastern blue tongue, eastern brown snake, red-bellied black snake, Lace Monitor, Sand Monitor, eastern snake-necked turtle.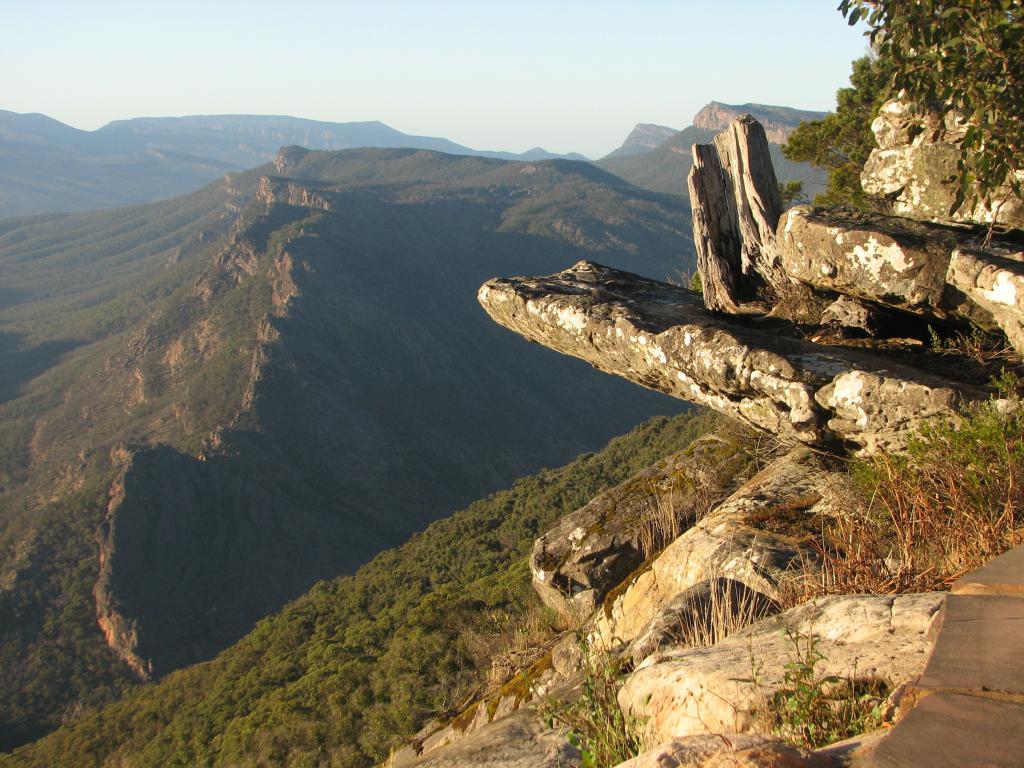 Morwell is situated between Halls Gap and Stawell at the foot of the Mt Difficult Range. Photo: Boroka Lookout, Mt Difficult Range, with thanks to David Clarke via Flickr.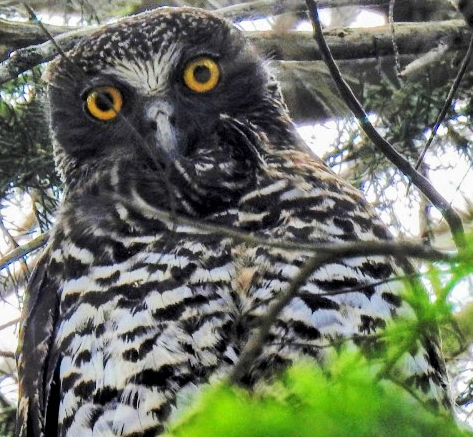 One of the Powerful Owls on Morwell.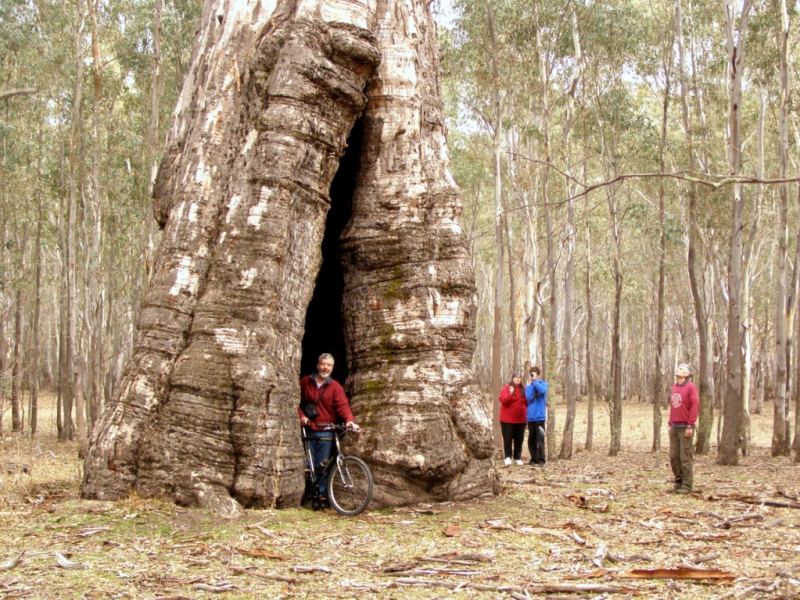 The giant river red gum on Morwell, listed with the National Trust's register of significant trees.