Landholder: David Fletcher
Traditional owners: Wotjobaluk, Jaadwa, Jadawadjali, Wergaia and Jupagulk peoples.
Size: 32 acres
Covenanted: 2019
The land was selected by my Great Grandfather, Henry Aumann, in 1872 and has been in the family ever since. The first two of Henry Aumann's 15 children were born here and there are records of Mrs Aumann bartering with the local indigenous peoples during the period.
This endangered Buloke Woodland is unique in that the land was never cleared or farmed – the only disturbance being a pair of milking cows, a horse and cart track and a permanent tent residence between the years 1872-1876.
Rare and endangered species
While the 32-acre remnant is embedded within an active broad-acre cereal farm, it may be the only remaining privately-owned block that still retains full understory indicative of what was present at the time of European settlement. Sixty-eight species of native plants have been recorded in the quadrat, of which 10 are rare and endangered.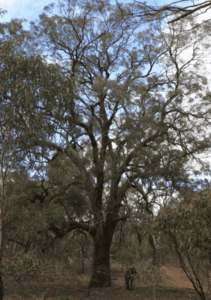 This vegetation community is largely intact, with excellent ground flora, shrubs and a healthy Buloke canopy. Bulokes themselves are listed, as is the Buloke Woodland Community. This property has both, with notable listings such as Eremophila deserti, Eutaxia diffusa, Ptilotus erubescens, Maireana rohriachi and Austrostipa puberula.
This community also protects a suite of woodland bird species, many of which comprise birds represented in the listed and declining Temperate Woodland Bird Community – notable among the 100+ recorded species is the Grey Crowned Babbler, Hooded Robin, Powerful Owl and Swift Parrot
The endangered Pale Sun Moth and Purple and Yellow Jewell beetle are examples of significant invertebrate species recorded.
Trust for Nature's Management Plan incorporates a 'crash grazing' weed control tool if required to quell invasive annual weeds and there is an argument that this should qualify within the parameters of a whole farm plan.
In setting aside this parcel of land for its environmental value I estimate that I have sacrificed hundreds of thousands of dollars over my lifetime, for what would have been very productive farmland. To be penalised with Land Tax and farm rates on top of this for 'unproductive' land is grossly unfair at a time when the conversation is about reducing CO2 emissions.
David Fletcher is a retired Photojournalist with the Wimmera Mail-Times in Horsham. The paper was instrumental in advocating for the Wimmera Mallee Pipeline project that now saves an estimated 90% of water harvested in the Grampians catchment. He was the photographer in a team that won a Walkley Award for a series of articles depicting the plight of the Wimmera River at the height of the Millennial Drought.